Welcome to the Year-in-Review Issue!!!!!!!!
Whew! This past year was one of the biggest for Incentive Solutions to date. We accomplished so much, and we couldn't have done it without the wonderful clients partners in our success. In this issue of Incentive Insider, let's look back at 2017 to see what we've achieved.
New Technology in 2017
Gamification Renovation
We made our
Gamification Module
even better! New program participants can now play virtual Spin to Win and Scratch Off games when they enroll. This engages them right off the bat, getting the ball rolling with earned reward points!
New Admin Dashboards
We totally revamped our
incentive program admin dashboards
in 2017! The new look includes program overviews of rewards issued and redeemed, participant engagement snapshots, top rewards redeemed and added to wish lists, communication snapshots, as well as promotion summaries, activity and goal tracking! These quick analytics with snazzy visuals help create a better incentive program experience with more easily-digestible data.
Goal Tracker and Wishlist Widgets
New Goal Tracker and Wishlist widgets released in 2017 show participants their goal progress and featured items on their reward wishlist. These "eyes on the prize" widgets were designed to keep participant motivation and excitement high.
CRM Integration
In response to popular demand, 2017 was the year we rolled out our
CRM Integration Module
! Our CRM integration feature allows you to plug your incentive program into your CRM, ERP or LMS system API. This creates a two-way participant and purchase information exchange to help you gather valueable sales and customer data.
Interactive Leaderboards
The leaderboard updates in 2017 made leaderboards more interactive and personalized! These updates were design to amp up competitive spirit and motivation on sales teams and channel partner networks, making it more satisfying for participants to snag that top spot. Want to know more about any of the above incentive program features?
Contact us
and we'll be happy to answer any questions!
Growth in 2017
Since we were founded in 1994, our mission has been to help businesses grow. The best way to do that is to start from within, right? This past year brought with it positive change and growth for us, which means greater growth and success for our client family!
Incentive Professional Certifications
We don't want to just deliver you the best, most advanced and flexible incentive technology.  We also want to bring you the best strategies and insights to run those programs! That's why our entire Account Management, Sales, Business Analyst, and Communications teams became certified IMA Incentive Professionals in 2017! We're so excited to expand our expertise and continue being the best incentive advisor and partner we can be.
More Successful Redemptions 
In 2017, we handled 120,679 reward redemptions, which was 8,000 more than last year's redemptions! And that number comes with our steadily-maintained customer satisfaction rating of 97% or higher. This shows that we continue providing top-notch participant support even as we process greater and greater numbers of reward redemptions.
Awards in 2017
Atlanta's Best and Brightest of 2017
For the fifth year in a row, we were named one of Atlanta's Best and Brightest Companies to Work For®! Every year, the the National Association for Business Resource selects 101 of Atlanta's best companies based on "communication, work-life balance, employee education, diversity, recognition, retention and more.
IMA Circle of Excellence Award
The contractor loyalty program we helped Ferguson create is officially award-winning! The Ferguson program, PRO Plus™, garnered 77% participation from contractors. Total average order quantity increased by 319% and participants provided 665% more monthly revenue than others. Congratulations to Ferguson's incentive program manager, Colette Garofalis, and account manager Sydney Coleman and everyone else who made this program amazing!
50 Leading Companies of 2017
We're honored to be named one of the 50 Leading Companies of 2017 by The Silicon Review. The magazine interviewed our CEO Steve Damerow. You can find the interview
here
to learn more about our company history, philosophies, secrets to our success and a glimpse into our future plans!
Charity Work in 2017
Donations to Children's Healthcare of Atlanta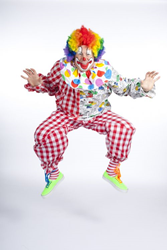 In his seventh year as a Distinguished Clown, our President Mark Herbert raised money in December for Children's Healthcare of Atlanta (CHOA). Mark and fellow distinguished Atlanta business leaders dressed in colorful clown couture to spend time with patients at CHOA and later joined the Children's Parade. They raised $50,000 for new technological advances, services and facilities to improve healthcare for Atlanta's children. Thank you to Atlanta's Distinguished Clowns for all you do each holiday season!
Ongoing Hurricane Relief Aid
Throughout October and November, we offered a special category in our reward catalog: the Point2ONE Drive. All points donated went to the One America Appeal foundation to provide relief to those affected by Hurricans Irma, Maria and Harvey. Dozens of clients and their program participants donated—too many for us to list here! See
this page
for a complete list of organizations who participated. Thank you so much to those who donated and helped us raise money for fellow Americans in need!
School Supplies for Atlanta's Children
Once again, this year we donated to one of our favorite local charities, Agape Atlanta's
Great Backpack Give-Away
! We donated 120 total backpacks to Agape, filled them with school supplies and dropped them off at the Agape community center. We couldn't have done it without the generous donations we received from our friends and client family. Thank you to all who contributed, and here's to even more backpacks in 2018!
Get Your Blog Fix
What's the latest from our blog's incentive strategies, news and insights? Have a look!
Is Your Competition Beating You with a Better B2B Customer Retention Program?

Can't seem to catch up to the competition? Here are the signs that your B2B customer retention isn't up to snuff.  Read more →

5 Surprising Tips to Increase Channel Partner Engagement

We have a few tips that will help you engage your sales channel partners, increasing customer loyalty and retention! Read more →

The Ultimate Guide on How to Motivate Your Sales Team

Become a sales motivation master with this guide! Read more →